NIGHT LIGHT NEWS
ESOTERIC ASTROLOGY AS NEWS
Gemini Festival of Humanity
And World Invocation Day

I Recognize My Other Self
and in the Waning of That Self
I Grow and Glow
(Gemini Seed Thought)

The New Group of World Servers (NGWS) prepare together this week for next Tuesday's full moon festival also called the Gemini Solar Festival of Humanity, Goodwill & World Invocation Day. Occurring at 7:20am (west coast time) May 29th, at 8 degrees Gemini, it is at time in which the NGWS, along with the Christ (present World teacher) and Hierarchy (inner spiritual world government), distribute to humanity the Shamballa force (blessings of Love from the Father, our God, Sanat Kumara from Venus).
This blessing, via the Buddha at the Wesak Festival, is the Will-to-Good which, when received by humanity, becomes Goodwill. It has been held in trust by the Christ, the Hierarchy and the New Group of World Servers since last month's Wesak Festival. It is therefore a most potent time for humanity and the Earth.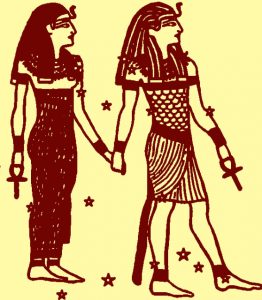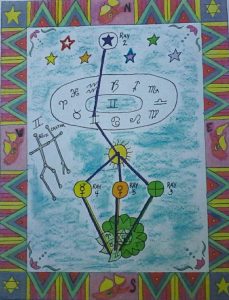 At each of the Three Spring Festivals (Aries, Taurus & Gemini) the Spirit of Resurrection releases forces to Restore (Aries), Enlighten (Taurus) and Reconstruct (Gemini) the Livingness of humanity and Earth. The Gemini Festival harmonizes all dualities & polarities; thus, it is also the Festival of Right Human Relations.
"Each year at the Gemini festival, the Christ preaches the last sermon of the Buddha to the assembled Hierarchy and everyone recites the Great Invocation, Mantram of Direction for Humanity. The Gemini festival is a festival of invocation and appeal for cultural, religious and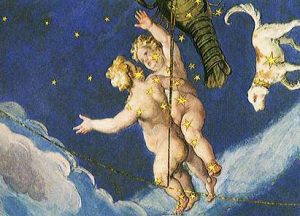 spiritual unity. It represents the combined work of the Buddha (Eastern teachings) and of the Christ (Western teachings) – creating a synthesis.
"In the future all three Festivals will be kept throughout the world and through them, a great spiritual unity will be achieved and the Great Approach (Reappearance of the World Teacher), so close at this time, will be stabilized by the united invocation of humanity throughout the planet." (A. Bailey)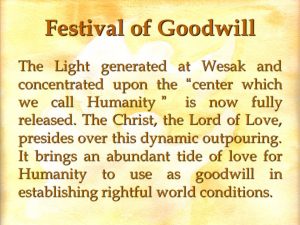 ---
| | |
| --- | --- |
|  Aries | March 21 – April 19: In the next eighteen months, you will find opportunities to develop new levels of creativity, talents, gifts, abilities and be able to recognize them. You will see what your contribution is to the world. Children, playfulness, fun and game games may become very important, along with learning how to love more, having a bit of romance, giving birth to something while radiating and shining a light in the world. |
|  Taurus | April 20 – May 20:  Over the next months you realize help from other is needed. Usually you accomplish everything alone. You're confident, assured and strong. However, there comes a time when one must realize that others can more effectively help and nurture us. Your heart needs a bit more warmth, empathy and care from others. Events occur that support this. |
|  Gemini | May 21 – June 20:  You will shine brightly in ways you didn't expect. Your communication skills will increase, and your conversations will be more lively and more understood. What are you curious about these day? What calls to you, what is of interest? This is a time to read more, study deeply and perhaps consider writing about your life, sharing it. Tolerance will be needed toward others different than you. Gemini is connected with Sirius, where love comes from. |
|  Cancer | June 21 – July 22:  There are virtues to be established in the coming months. That of patience and determination. These will allow for a new creativity to come about. Gardening is a most important skill and task for Cancer who seeks to nurture the world. A rose garden is especially valuable. All of nature calls to you. Nature is the most balanced of kingdoms. Create an arbor, plant climbing roses, the fragrant kind. The devas will help you. |
|  Leo | July 23 – August 22: It is good to consider your image. You're a leader and are becoming a pioneer of all things new. You become quite unusual in the next months to a year. A new self-image will emerge that initiates a fire within others, a Vesta fire. You become a forerunner for groups seeking to understand how communicate. Perhaps with other species or kingdoms. Travel takes you far away. |
|  Virgo | August 23 – September 22:  You will move along new pathways. Familiar life patterns change. Veils will hide the old ways of being. Challenges will be met through intuition, prayer, mantrams and silent contemplative walks. You will seek to practice random kindness and realize, that although sometimes, solitary, you are never alone. You cultivate a deeper spiritual awareness. Talk with the devas. |
|  Libra | September 23 – October 22: You might find yourself joining with others, everyone sharing common goals, creating new endeavors together. The efforts are humanitarian, a bit radical, with the purpose of social change. You will learn a deeper level of cooperation as you blend your personal will with the great harmonious Will. Right Relations with everyone calls to you. All of this beneficence is filled with new opportunities for you. |
|  Scorpio | October 23 – November 21:  When considering your career, maintain the highest standards. You may encounter public recognition in your chosen field. Powerful energies drop into your mind, encouraging you to bring forth new leadership. Over the next eighteen-months opportunities occur to establish cooperative leadership. Maintain boundaries and see yourself as an expert with a sterling reputation. |
|  Sagittarius | November 22 – December 21:  Travel. Journeys. On a boat or plane. Over mountains and plains. Across countries, over rivers and oceans. New cultures, exotic foods, higher learning, various philosophies, unusual clothing, personal growth, goals, justice, new belief systems, new spiritual systems and dimension. Starting points and ending points. Bow and Arrows. White Horse. Pilgrimage. God. All of these, over time, encountered, lead you to Wisdom. |
|  Capricorn | December 22 – January 19:   Cultivate a deeper intimacy between yourself and the one you love. A highly developed level of love is available to you at this time. Consider ways to regenerate and ways to rejuvenate. All things outworn simply fall away. You become more intuitive. Keeping a dream, vision, aspiration and astrology journal is helpful for when you look back on this time. To understand. |
|  Aquarius | January 20 – February 18:  You will be given the opportunity to develop Right Human Relations with everyone, bringing forth poise and stability in all relationships, personal and impersonal. Especially personal at first. You will experience a give and take in all interactions which creates a harmony between you and others. Diplomacy will be called forth and more acceptance so all separations become unified. You become a greater person. |
|  Pisces | February 19 – March 20:  You will consider over the next months all interactions with co-workers. Even if you live a solitary life, there are kingdoms (mineral, plant, animal, human, spiritual) around all of us that we interact and work within. it will be important to improve all environments and tend to the personal self in ways that bring about personal healing. Include alternative methods (see a Functional doctor). Spend time each day in the direct golden light of the Sun. |
To communicate with Risa and/or respond to the information on this website email:  Risagoodwill@gmail.com