NIGHT LIGHT NEWS
ESOTERIC ASTROLOGY AS NEWS
Week of January 31 to February 6, 2018

Candlemas, a Fire Festival
  
February has a rhythm of festivals, with the purpose of uplifting humanity from the darkness of winter, to the hope for Spring.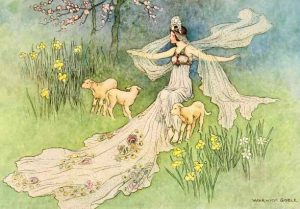 February 1 & 2 (Thursday & Friday) are St. Brigid's Days (Imbolc, Gaelic festival). We bake multi-grain breads, weave crosses of wheat or oat stalks. The crosses, hung in our homes, protect from fires and lightening. We make corn dollies from dried (soaked in water) corn sheaves, offering the dollies as gifts.
Friday is Candlemas Day and Groundhog Day (does the groundhog return to his burrow or see his "shadow." Candlemas is significant astronomically and spiritually. As a cross-quarter day, Candlemas marks the moment in time (day & night) between winter solstice and spring equinox. Like a spring festival of preparation, we turn over the soil, prepare it bio-dynamically, sort seeds, bless their life-force, thus securing our future food supply. The Light is returning. We feel hope. It is also called Imbolc (Celtic festival).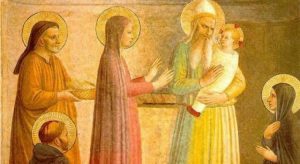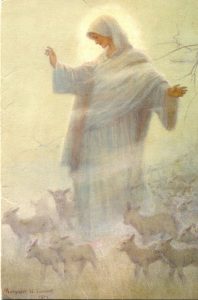 In the Catholic Church, Candlemas, 40 days after Christmas, marks the end of Epiphany. On this day, the holy child and Mary are presented in the Temple. Mary is bathed (purified in a ritual – mikvah – bath of sea/salt water) and the holy child (Jesus) is recognized as the promised and long awaited One – the "Light of the world." We, too, bathe ourselves in salt and sea water. Dedicating ourselves to also be the "Light of the world" for thirsty humanity (Aquarian task).
Candlemas, a fire festival, celebrating the Sun's rising light, the sap rising (fires) in the plant kingdom. At Mass, beeswax candles are blessed, to be used throughout the year for light & protection. These rituals anchor into our thoughts and our world the "Light of Life itself". Rituals connect us to Earth and to the Heavens. We come into balance during these days.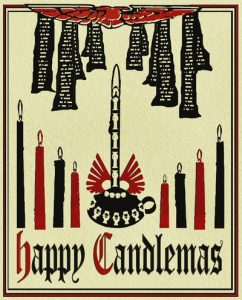 ---
| | |
| --- | --- |
|  Aries | March 21 – April 19:  Slowly over the next many years, so much that is within you, often unknown and unheeded, will surface. So much has been forgotten. When remembered they become "found objects" of self, awaiting the right time and season to emerge. Memories will surface in dreams, symbols, amulets and talismans. As the mystery of yourself is revealed, unseen worlds will be seen. Faith and trust and hope are your guides. |
|  Taurus | April 20 – May 20:  In the coming times, you will be needed by a wider group of like-minded, socially conscious, and spiritually aware people. You will all be artistic, creative and quite unusual. You will create, build and form a community that is the template for the new culture and civilization. You have sought to create this. Continue to imagine it. First the storm, then thunder, then the Voice of the Silence. |
|  Gemini | May 21 – June 20:  Should you feel uncertain about your work in the world, know that this is part of the fire's function, attempting to refine you into the new ways of being, centering you in the heart. The heart needs stillness and silence. Fiery ways slowly undermine the idea that you can act like everyone else. You can't. What you're left with is your imagination. What do you imagine your future to be? |
|  Cancer | June 21 – July 22:  Inspired and immersed in the chambers of the subtle heart…you touch a cosmic magnet and the fire of space. You will enter deeper into mystical and/or esoteric teachings. It will be good to read Rumi. You learn new ways, enter into new places of knowledge, gather ancient wisdoms. You are called to share all that you know. Humanity is thirsty for real knowledge. You love humanity. |
|  Leo | July 23 – August 22: The fires of space restore the equilibrium of humanity. You are that fire. There may be explorations, deep and profound, into issues concerning life, death, sex, rock & roll, and everything else transformative. Taxes, too. And freedom and money. Questions like what is death and what is the function of sex? Am I sexy? What's sexy to me? And how do we want our money to be used to create the new paradigm shift? |
|  Virgo | August 23 – September 22:  You will see everything through the lens of the spiritual. You will see and recognize the life force, a fire within all cells. Some Virgos may see the actual angels (devas) building the kingdoms. You will discover what unconditional love means. First by seeking it. Then by providing it. A sacred contract. You will make new connections. Love will be released. Everything's different than before. |
|  Libra | September 23 – October 22: A new authenticity will come forth from within and your lifestyle will change. Forgiveness will begin, then continue. Forgiving the self first, is good. What (whom) do you think needs forgiving? Commune with all with one heart. Then the cosmic magnet will breathe through you. Let your daily routines focus on creating and sustaining vibrant health. Become very careful and caring with health. Let direct communion in the heart lead the way. Then you distribute the holy fragrance of life itself. |
|  Scorpio | October 23 – November 21:  You are the master of illusion. You will meet others who also have your gift, protecting themselves against all emotional intrusions. You will come to a point when feelings of aloneness must give way to making true contact. Romance may find you. You can be "romanced" by ideas, by a rare coin or flower, by an angel, a stone or one of the kingdoms. You will become intimate in knowledge with what humanity needs. |
|  Sagittarius | November 22 – December 21:  There might be an inner return (memories) to family of origin, family history; it's successes, disappointments, strengths and yearnings. Learning what sacrifices the family made. Realizing you hold these for your family (family karma, the carrier). You yearn for clarity, for release, for freedom, for a new reality of home. Also for authentic closeness and care. Let's pray for it together. |
|  Capricorn | December 22 – January 19:  Gradually you notice the many forms of non-verbal communication and expression surrounding you. It's as if you can hear (and see) the angels (devas) building form out of the air. Read again the Findhorn Garden. Your intuition senses all subtle signals unknown by most others. This stimulates your imagination. Community, gardens, fields of flowers are your keywords. If allergies arise, turn to homeopathics. |
|  Aquarius | January 20 – February 18:  Make sure to be careful with money. It may feel that the outflow is greater than the inflow. And perhaps it is. Eventually your ideas about money will change. New values will replace previously accepted values about money and how it's made. A new spiritual reality comes forth and you enter gladly into the new sharing society. Watch for this. In the meantime, be prudent with all resources. |
|  Pisces | February 19 – March 20:  You become more subtle, refined, changeable, whimsical and elusive. You may feel the need for more rest, reflection and contemplation. You may experience Oneness, the Love of God. Your identity may shift and lines blur around boundaries. You become mysterious and reflect upon the needs of others. You "save" others by inspiring compassion. You then need to rest more. |

To communicate with Risa and/or respond to the information on this website email:  Risagoodwill@gmail.com